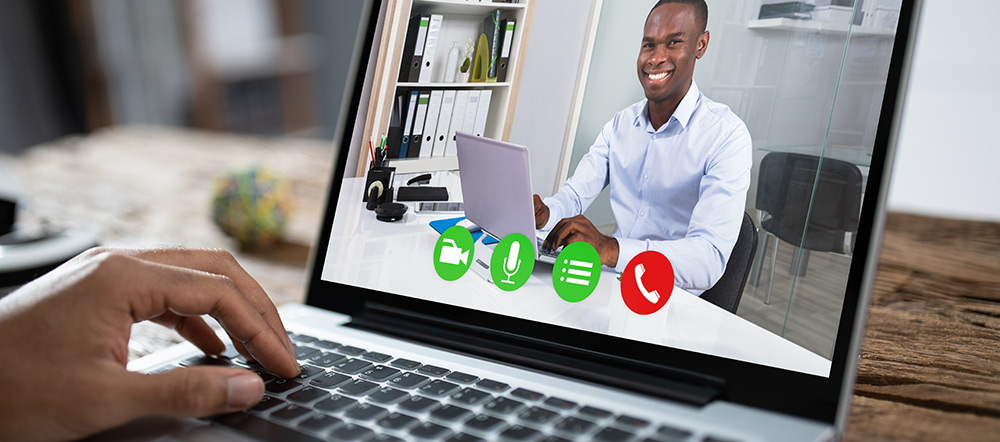 Video conferencing has been around for many years, and you're probably using the technology regularly. If you're a job seeker, you may have already attended pre-screening or initial interviews via live video. This article will help clarify the basics – procedures and pitfalls – of video interviewing.
Available Technology
The following three apps are used regularly in video conferencing:
 Zoom. Increasingly popular, Zoom offers many plans to suit different needs. As an individual user, you do not have to pay to use their software; their free plan is sufficient for most personal use.
Google Hangouts. If you have a Google account, you have access to Hangouts. It's cross-platform, easy to use, and includes video as well as voice. You'll get up and running quickly with this free solution.
Skype. Many people still use Skype. It continues to be a viable, stable option for video. If the company you're interviewing for uses Skype and you don't have an account, you can create one for free.
A Polished Video Interview Experience
In a video interview, you'll want to present a professional image and have a high-quality video as you can. Some of the following tips may seem basic, but overlooking them could present a less-than-professional interview that may lessen your chances of landing a job with your chosen company.
First Impressions Cannot Be Taken Back. People judge us, or get a reading on us, during the first few seconds we meet them. They form their opinions based on such things as how we dress, how we speak, body language, and handshakes. Video interviews are no different from in-person meetings, minus the physical handshake, so you want to make the best impression you can. Here are a few tips to keep in mind:
Prepare or carefully choose your environment. Your home may not have a professional studio, but that doesn't mean you can't create a positive, polished video atmosphere. Choose a quiet, distraction-free room or corner. Soft lighting produces a much more natural look than harsh or 'hard' lighting (the bright sun can produce hard light, as can fluorescent lighting). To add a softer touch and natural hue, consider having a low-intensity bulb/lamp on your desk or table. A laptop, tablet, or phone camera is generally not good (or in the case of a phone, stable) enough for video conferencing. Consider purchasing an external HD web camera. You won't regret the investment. Along the same lines, you don't want people straining to hear you. Use an external microphone if possible.
Dress as you would if you were meeting the employer in person. Remember things like 'the shiny object syndrome'; bright or checkered colors, or jewelry, tend to take the attention away from you, and sometimes play havoc with the video feed. Dress fully in a suit or other appropriate business attire. The only potential exception to this might be if you're applying for work at a company that you know to have 'relaxed' dress standards. Don't show too much skin, which, if you're on a 'head and shoulders' type video, will seem like overkill. 
Greet the employer confidently and pleasantly. A brief nod, and a genuine smile will help. Look directly into your camera. Repeat their name once they introduce themselves and thank them.
It's okay to be expressive. Video conferencing may be the next best thing to being in person, so everything you do, each gesture, each expression, can either add to the value of the interview, or if overdone, take away from it. Be natural and expressive. Don't be camera shy.
We hope you found our procedures and pitfalls of video interviewing helpful. Need more tips? Do you have any questions about video interviewing you'd like to ask us? Please visit our website or fill out our easy to use webform!