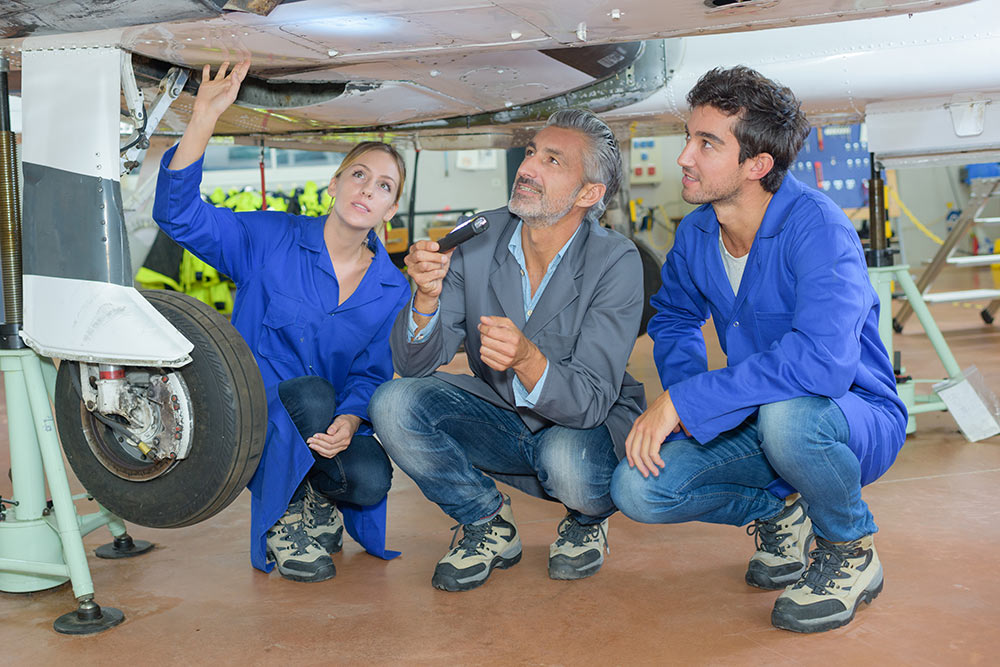 If you yearn to follow in the Wright Brothers slipstream, then aeronautical engineering may be for you. This is the branch of engineering that is at the "leading edge" of design and development of the world's aircraft.
Job opportunities in aeronautical engineering cover a wide range of related disciplines such as material science, aerodynamics, fluid dynamics, structural analysis, propulsion, and manufacturing.
It is a branch of what is now called Aerospace Engineering. The other branch is Astronautical Engineering which covers vehicles that are designed to operate in space and so subject to very different physical environments. In a very real sense, aeronautical engineering is not "rocket science"!
What Does An Aeronautical Engineer Do?
Aeronautical engineers design structures that exploit the tendency for air passing over curved surfaces to create lift.
For centuries man has dreamt of flying as birds do. Leonardo Da Vinci sketched out a few ideas for flying structures. His Aerial Screw was recently revived by a team of Dutch aeronautical engineering students and used as the basis for a new drone design.
However, Sir George Cayley is generally recognized as the first engineer to design an efficient cambered airfoil and identify the four-vector forces that influence an aircraft: thrust, lift, drag, and weight. He is often referred to as the "Father of Aviation".
Of course, the Wright Brothers took the honors for being the first to create a powered, heavier than air, flying machine when they flew the Wright Flyer on December 17, 1903, at Kitty Hawk, North Carolina. The flight only lasted 12 seconds but it was enough to pave the way for over a century of aeronautical engineering development.
Today, the work of aeronautical engineers is no less groundbreaking. Aviation has made the world a much more accessible place and aircraft of all kinds are constantly being developed to overcome challenges of speed, carrying capacity, and fuel economy. The recognition of the climate crisis has created a great emphasis on fuel economy and alternative means of propulsion. Aeronautical engineers are at the forefront of finding solutions using their understanding of the physics of fluid dynamics, aerodynamics, and structural analysis combined with the chemistry of propulsion systems and material science.
Do You Have What It Takes To Become An Aeronautical Engineer?
You'll need a bachelor's degree in aeronautical engineering. Some universities offer aerospace engineering and differentiate between aeronautical and astronautical engineering.
You should have a good background in physics, chemistry, computer science, and mathematics if you want to pursue an aeronautical engineering degree.
Most universities will offer undergraduate credits for high school students who want to get an early start and can often include practical project work with the main aerospace corporations like Boeing and Lockheed Martin. For the right candidates, there may also be opportunities for internships and payment of education fees.
The US Airforce is always looking for the best aeronautical engineers and a military career path may be a good way to get involved in fast jets and cutting-edge technological advancements.
What Are The Prospects And Salary Expectations?
Engineering is a high-demand profession and aeronautical engineering is a very sought-after branch. The move to finding more eco-friendly forms of transport is putting pressure on the aerospace industry to find ways to cut the use of fossil fuels by improving the efficiency of aircraft. There is a great deal of work to be done.
Recent developments in the world of drones and autonomous aircraft are also areas where innovation and problem-solving are key skill requirements.
According to the U.S Bureau of Labor Statistics, the median salary for an aeronautical engineer is around $120,000 per year.
How To Find The Right Opening
Here at Step Up Recruiting, we specialize in finding the right jobs for aeronautical engineers so you're in the right place. Drop us a line and we will help you find your perfect match.