Diverse Recruitment – Is it time for a hiring audit?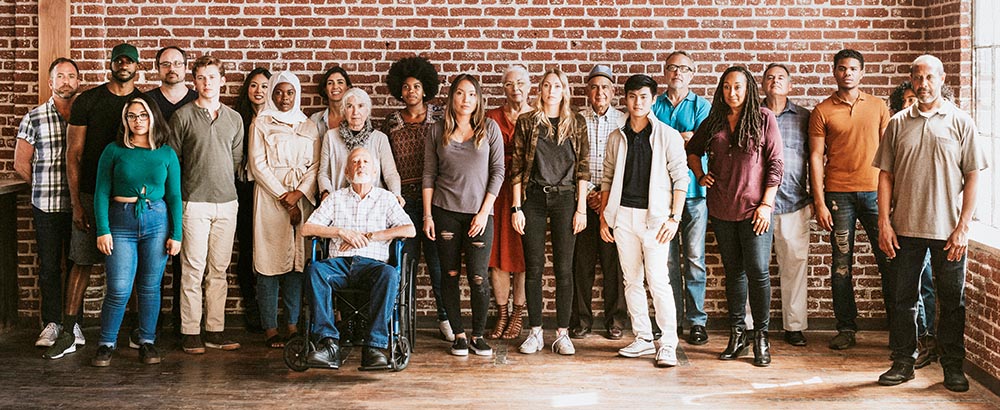 There's a growing labor shortage. How effective has your company been with diverse recruitment?
The last couple of years have seen a significant shift in the attitude of employees to their working life and conditions. This isn't just the growing expectation of being able to work a more flexible schedule or spend more time working from home.
Finding the right people is becoming more challenging. It's important to ensure that you appeal to as wide a demographic as possible.
If you're looking for the best talent, be aware that they are getting very choosy about who they work for.
Sure, pay and conditions are important, but many are starting to ask themselves awkward questions about whether they can trust a potential employer to treat them equitably with consideration and understanding if things get rough.
The first contact you have with your potential managers and team leaders is through your brand image and recruitment material.
If your applicants seem to be a bit thin on the ground and fit a very tight demographic profile it may be time to take stock and audit your hiring practices and company culture for inclusivity and diversity.
Inclusivity And Diversity Are Two Sides Of The Same Coin
Inclusivity is becoming a "hot button" topic in recruitment. This isn't just a response to employment legislation that requires equality of opportunity for minority groups. The rewards for embracing inclusivity in your company culture and building a diverse workforce can be spectacular.
The world is now a global village and to attract talent from as diverse a pool of candidates as possible, you need to demonstrate inclusivity in all aspects of your hiring process and working environment.
Diverse Recruitment Is A Key Driver For Business Growth And Innovation
Creativity is the process of gathering the threads of a wide spectrum of ideas and perspectives and weaving new solutions, product ideas and new markets. It makes sense that the greater the diversity of backgrounds and perspectives the greater will be the potential.
Of course, just having a diverse workforce is not enough on its own. Every member needs to be treated with respect and a genuine acceptance of what they bring to the table.
Inclusivity allows you to create a fair workplace where everyone understands, accepts, and values the differences between people of different races, ethnicities, genders, ages, religions, disabilities, and sexual orientations, as well as differences in personalities, skill sets, experience, and knowledge bases.
Many modern organizations have a collaborative, team-based communication structure which allows them to carefully manage potential interpersonal conflict by creating pathways for common understanding. This extends not just internally, but also in the way they deal with customers and other external parties.
This gives them a significant competitive edge.
This is not just equality – it is equity.
Attract Diverse Candidates By Checking These Areas
1. Job Ads And The Hiring Process
It's no surprise that the job ad is the place where your candidate decides whether the job you are offering is going to provide them with a fulfilling working experience. The surprise is how easy it is to put off a very large number of excellent candidates because they cannot identify as the person that is being targeted by the ad.
This is often a completely unconscious bias by your copywriter. Try to make sure that descriptions do not contain words like workmanship or chairman for instance. The way you describe the competitive thrust of your company culture may lead people to believe that only those with a history of college football success need apply. Make sure that the actual skills needed for the job are those that are highlighted.
When it comes to the interview and pre-employment testing it may be worth finding ways to prevent bias by using blind recruitment processes. Here, the applicant's information is filtered to show only the relevant areas necessary for assessing suitability for the job and removing names, gender, birth nationality etc.
Many companies are also using psychometric personality testing in an attempt to build objectivity into the selection process.
2. Workplace Policies
It's not enough to just talk the talk, your existing working environment needs to reflect your inclusive values. Promote inclusivity at all levels. This means that managers need to be aware that some employees may have a justifiable need for flexible working arrangements. So long as the flexibility is reciprocated and the work gets done then this should be accommodated.
Promoting an acceptance of the need for all human beings to have a work/life balance creates a great improvement in mental health and physical wellbeing.
Interpersonal relationships are important and guidance and advice on behavior and conduct should be published and adhered to at all levels of the organization. No one should ever feel threatened or uncomfortable and a culture of mutual support can be vital.
3. Widen The Skill Pool
Of course the best way to ensure a good variety of diverse candidates is to look at where you are advertising and which recruitment organizations and educational establishments you are networking with. Make sure you have a wide range of options.
If you are operating a truly inclusive company culture then some of your most valuable advocates will be your existing employees. Word gets around very quickly. If you encourage your people to be proud of the way the company they work for supports and values a wide variety of people from all walks of life, they'll bring you a steady stream of hopefuls wanting to work for you.
If you're ready to grasp the nettle and open up your organization to a diverse workforce that will build innovation and create your competitive edge then at StepUp Recruiting, we have a very diverse network of contacts and the passion to promote inclusive employment.
Let's talk!